6-12mo toys—
 So much happens in this age range. Baby discovers the joys of banging objects together to make a sound and pushing fun things across the floor.
Push cars: 
As mobility sky rockets, toys that encourage movement and safe exploration of their environment are ideal. Hand-held toys with wheels, such as push cars are perfect.
Little Sapling Cars with tunnels and bridges
Beautifully crafted of smooth wood, the cars are the perfect size for small hands to grasp and push across the floor while remaining safe for curious little mouths to munch on. Complete with two arches that can serve as tunnels or bridges, this set is perfect for growing minds and expanding imaginations from infancy into childhood.
Music: 
Sound and their ability to create sound is the hallmark of brain development at this age. Your baby is thrilled by the vocal sounds they can make as well as the objects they can manipulate to create stimulating noises. From shaking a rattle to playing an instrument, exploring the world of sound is key.
Bebe Co Maracas
Beautifully crafted, the miniature maracas from Bebe Co are not only the perfect addition to any nursery, they are the perfect instrument to foster a sense of rhythm in your growing babe. Bebe Co is an Australian based online company that decorates their pastel dipped baby maracas with a completely safe non-toxic water based paint, the perfect heirloom for passing down to generations to come. Designed for babies as young as 6 months to enjoy, please keep in mind that they are not a teething toy and should not be chewed on.
Kleynimals
Every time we leave the house my son reaches for my keys, he just LOVES the clinking sound they make and how the metal catches the light.  Household keys are sharp, dirty and do not belong in a child's hand or mouth, however, plastic toy keys just don't come close to simulating the joy and wonder adults keys do. Finally there is a solution! Kleynimals is an American based company that we love more with each passing month. With high quality stainless steel materials and superior craftsmanship, Kleynimals is sure to be a favorite in your home as well. Kleynimals is also the creators of our favorite rattle and toddler silverware!
Blocks and Letters: 
It is never too early to foster a love for learning and discovery. While they may not be able to independently spell their name yet, it is never too early to introduce baby to the letters that join together. Additionally, the joys of building and knocking down blocks is a love that transcends all ages.
Smiling Tree Toys
Luke received building blocks for Christmas this year. Arriving in a set of 24 beautifully crafted blocks, complete with various shapes and sizes, they are ideal for learning and perfect for fostering his growing imagination.
Another favorite of ours is their name puzzle! When Luke was tiny, this puzzle sat on his dresser as a beautiful custom decoration. Now it is the first toy he reaches for! It is never too early to foster a love for learning and discovery. While he may not be able to spell his name yet, it is never too early to start teaching letters and sounds.
Stroller/Tike:
Imagination and exploration needs time outside the home in addition to playtime inside. The sounds, sights, and smells encountered on walks are powerful stimulators of brain development.
Joovy
As your baby grows they will demonstrate an increasing desire to demonstrate independence. Bikes such as the Joovy Tricycoo are perfect for this. Children as young as 10 months of age can use it, with support around the waist and total parental control of the speed and steering. Then as your child grows the  trike adjusts to allow them to petal independently!
The Joovy Tricycoo has the ability to advance from being totally under parental control with baby securely strapped in, to becoming a traditional tricycle that your toddler can ride independently. Such a great way to get outside for fresh air with a removable suncover to protect delicate skin from sun exposure.
I love that this product solves the age old toddler problem of wanting to ride their bike on the walk, but a few blocks in they are wanting to get carried home. With the Joovy Tricycoo, you can leave the parental handle connected so that once they run out of toddler steam you can give them a push home!
BOOKS:
Animal sounds- With your baby learning how to make exhilarating sounds of their own creation, take this opportunity to model and encourage the association of animals with their respective sounds.
Touch and feel- As baby's tactile sense grows now is the perfect time for books such as "Pat the Bunny" that allow baby to interact with the story and learn about different textures.
Thanks for stopping by!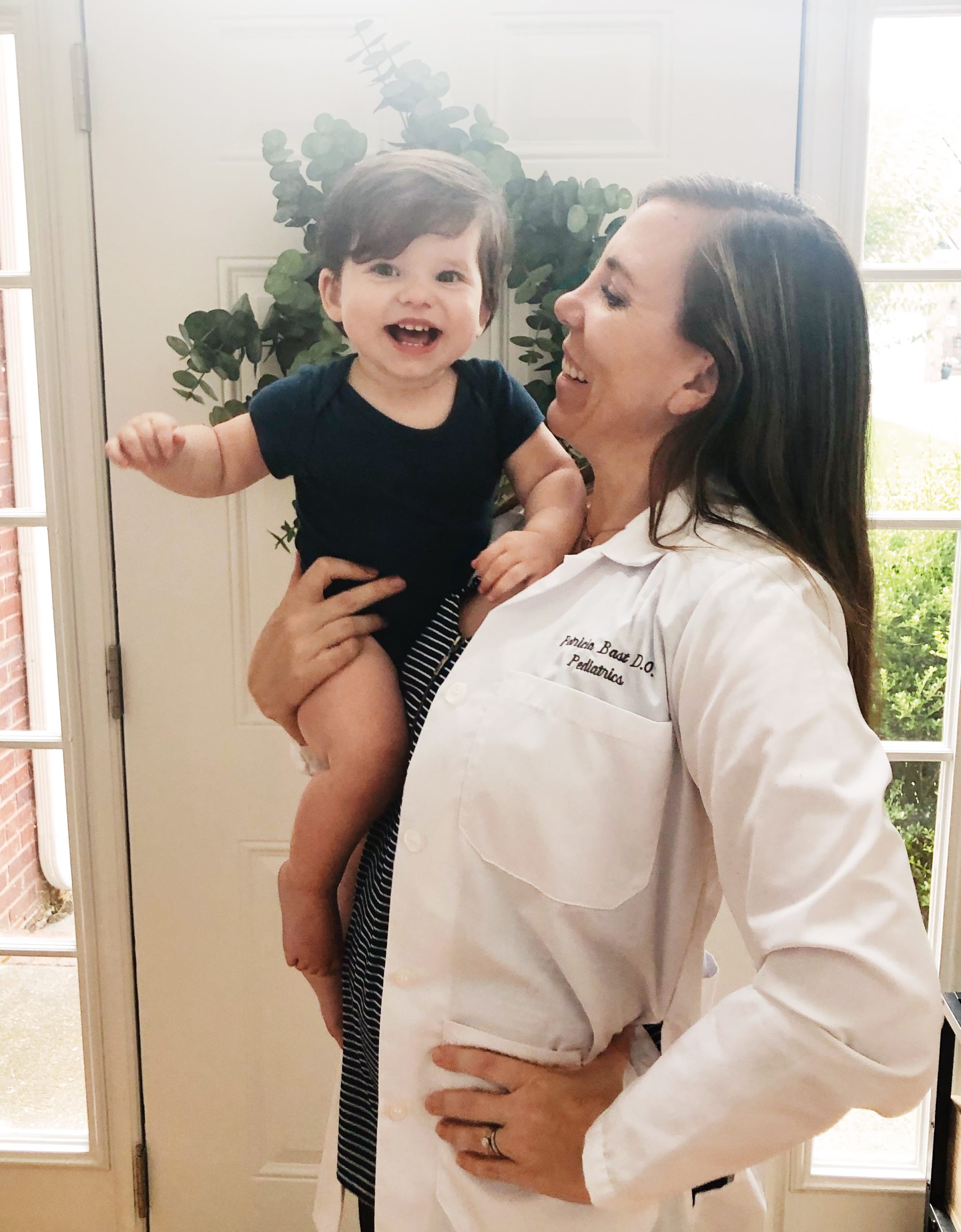 Dr. Patricia Bast was born and raised in Southern California. She earned a bachelors degree in science at UC Irvine, then went on to graduate medical school from Touro University College of Osteopathic Medicine in Northern California. After several years working as a pediatrician Dr. Bast choose to expand her training to include lactation consultant. Dr. Bast is now raising her children and taking care of patients in beautiful Georgia.