Baby wearing has a vast number of incredible benefits, including promoting parental bonding, stimulating brain development, and infant crying decreased by as much as 40%. But with all the options available it can be difficult to pick the best baby carrier for you. I have been blessed to try many different brands and styles of baby carriers, below I will go through the benefits and potential draw-backs of each one. I will only be discussing brands I have personal experience with.
——————————————————————————————————————–
Stretchy Wraps: Soft and flexible, provide a secure womb-like environment for baby. Very comfortable for baby wearing. Ideal for the first several months of life. However, they do take a few attempts to get comfortable using. Due to the structure of stretchy wraps, forward facing is not recommend because healthy hip position can not be maintained.
Beluga Baby
The stretchiest and coziest of the three stretchy wraps I have tried. Beluga Baby wraps are like wearing your favorite sweatshirt, they will quickly become your go-to. When Luke is having a hard day, teething or not feeling well, I love grabbing my Beluga Baby wrap and holding my son skin-to-skin. Due to it's stretchy nature, this wrap also took me the most practice tie snug enough, see below =) The stretchy material makes the Beluga Baby wrap easy to breastfeed in without having to loosen your wrap! Beluga Baby Wraps are made from Bamboo and naturally moisture wicking, UV protectant, and antibacterial. Machine washable. Safe to wear birth until 25-30lbs. (The bottom photo is my 12 month old)
SollyBaby
Beautiful, soft, very lightweight, and only minimally stretchy. Perfect for warm climates as the material allows baby's skin to breath without overheating them. My Solly Baby Wrap was my go-to when Luke was first born and I was just learning how to tie wraps, it is very easy to use and extremely comfortable for both mother and baby.
Made from Lenzing Modal, a soft and breathable fabric. Your Solly Baby Wrap can be used from Newborn up until 25lbs.
Machine washable.
Happy Baby Wrap
Moderately stretchy, lightweight and soft. Slightly thicker material then Solly, but with it's moisture wicking material, still great for California's warm climate. Absolutely beautiful fabric and feel, straight out of the box! Made from 100% Organic bamboo and luxurious linen.
Happy Baby Wraps are great for Newborns up until 25 lbs.
Machine washable and available in many beautiful colors, perfect for every season.
——————————————————————————————————————–
Baby K'tan
Unlike a traditional wrap the K'tan is actually made of a patented double-loop design that allows you to quickly and easily put it on with no wrapping.
When my son was very young, I kept my Baby K'Tan in the car. It is perfect to get the benefits of baby wearing without the time and effort of tying a stretchy wrap. Plus you can easily take your baby in and out with minimal adjustments.
Recommended for babies 8-35lbs.
Per website, baby can also be worn facing forward once they are developmentally ready, however, the hips will not be maintained in an ergonomic position.
The Baby K'tan is meant to fit like a snug shirt. In order to achieve the appropriate fit it is important to buy the appropriate size (XS-XL). Unlike a stretchy wrap, Baby K'tan is not a universal fit and may not fit both you and your partner the same. The fit extends up to Women's size 22 and Men's Suit Size 50.
Machine Washable
K'Tan Active
——————————————————————————————————————–
Ring Slings: Quick and efficient to get on and ideal to breastfeed in. Available in a wide range of fabrics and colors to provide the perfect compliment to any outfit. Perfect for casual and formal occasions alike. Great for breastfeeding in! Achieving the perfect deep seat for baby can take a few tries. Some fabrics take time to break in. Can be fatiguing to the shoulder the sling goes over.
Sakura Bloom slings
Available in a range of materials (linen, bamboo, cashmere, silk) and colors ways, I have only had the pleasure of using their Classic Linen ring slings. Anywhere we go our Sakura Bloom slings are close at hand to provide a quick carrying option when Luke wants cuddles. Vibrant right from the start, Sakura Bloom slings soften beautifully with each use, becoming stronger and more malleable with washing and wear.Machine washable.
Can be used from newborn until 35lbs. No forward facing.
Wild Poppy Hand Wovens Slings
Beautiful and handcrafted, Poppy Woven Slings speak of love and comfort. The material is warm and cozy, but naturally breathable to prevent overheating. Easy to adjust and achieve the perfect fit, this sling is comfortable for both wearer and baby. Due to the custom and hand crafted nature of these slings they are very limited in quantity and must be purchased via raffle. She makes both woven wraps and ring slings. No forward facing.
Chekoh-
An Australian company. I tried the Nusa ring sling and was immediately disappointed by how rough the material was when it first arrived. The material does soften with usage, but not as well as I had hoped. Also the sling is on the shorter side so may not work well for all body types. Because it is my least favorite sling I take it to work with me when Luke comes along and keep it in the car for emergencies. Made of a natural lightweight linens blend fabrics and lightweight aluminum rings, designed with warmer climates in mind. Machine washable. Can be used birth until 15kg (approx 33lbs). No forward facing.
——————————————————————————————————————–
Soft Structured Carriers:Ideal for times of extended baby wearing, SSCs evenly distribute baby's weight across your shoulder's and back to help reduce the strain. SSC's are also the only carrier that offer the possibility of forward facing and backpack carry. Although, SSC's can be expensive, they have the most longevity with the ability to wear infants from birth into toddlerhood. Excellent for breastfeeding on the go!
Lillebaby
This is my go-to carrier when I know I will be wearing my son for long time periods. The lumbar support is a unique feature that provides exceptional comfort for extended periods of baby wearing. Baby can face inward, outward, and be carried on the hip or back.
Recommended for Newborn until 45lbs, no insert needed.
Machine washable.
Pros:
Lumbar support decreases back strain.
Back straps can be worn crossed if desired.
Large zippered pocket.
Sleeping hood that is perfect to shield baby from the sun or provide privacy for breastfeeding.
Does not require newborn insert.
Cons:
Bulky carrier when packing
Not a quick switch from facing inward to facing outward
Organic Complete (Seaglass)
ErgoBaby:
A soft structured carrier that comes in multiple variations, I have had the pleasure of trying both the Ergo 360 and Ergo Original.
-Ergo Original
While more limited in the carry position options (no forward facing), the Ergo Original is incredibly comfortable and easy to use. It softens like your favorite pair of jeans and is my go-to SSC for wearing around the house. With the buckle waistband you can easily loosen the waist and lower your baby to allow them to latch, then raise them and re-tighten once finished. Can be worn facing inward, on hip, and on back.
Machine washable.
Supports infants newborn, with infant insert, until 45lbs.
Pros:
Large zippered storage pocket.
Very easy to adjust to breastfeed in.
Sleeping hood that is perfect to shield baby from the sun or provide privacy for breastfeeding.
Soft and comfortable straight out of the box.
Easily packed in small space for travel.
Cons:
No forward facing option.
No lumbar support
Requires infant insert for newborn use.
Ergo Original (Natural Linen)
-Ergo 360
Known for it's ability to allow baby to face both inward toward you, forward toward their environment, plus hip and back carry options, all while maintaining a healthy hip posture, the 360 is very versatile. While I found the thick waist comfortable, the Velcro makes it difficult to adjust while wearing. To breastfeed you can loosen the shoulder straps and allow your baby to tilt sideways instead of adjusting the waistband height.
Machine washable.
Can be used from newborn, with Infant Insert, until 33lbs.
Pros:
Sleeping hood that is perfect to shield baby from the sun or provide privacy for breastfeeding.
Baby can easily be switched from facing inward to facing outward with one hand.
Cons:
No zippered pocket.
Carrier is stiff out of the box and straps are not soft.
Velcro waistband catches on clothing and not adjustable when baby is in carrier.
Requires infant insert for newborn use.
Madame Googoo
A Polish company that custom makes a variety of different soft structured carriers from a wide range of materials including wrap conversions. When purchasing you can choose from the selection of ready-made designs or choose exactly which fabrics and patterns you would like for a personal touch. I worked very closely to design Luke's "baby bear" custom carrier and am thrilled with how it turned out! Absolutely gorgeous, with the cutest removable bear hood! We stop traffic every time we wear it!
Recommended for 4 months and older.
All carriers are compliant with European Safety Standards.
To complete your order, Madame GooGoo offers coordinating suck pads, hoods, reach straps, and drawstring bags!
Pros:
Custom made to ensure the perfect fit for both baby and wearer.
Comfortable deep seat to provide a healthy position for baby's hips and back.
Countless adorable patterns available, including custom hoods.
Pocket on front, however zipper pocket would be even better.
Cons:
No forward facing.
Infant needs to be 4 months old prior to use.
No lumbar support
BabyBjorn: Baby Carrier One
A beautiful carrier that has a sleek design and unique buckle elements. The easiest SSC I have tried to get baby perfectly adjusted. This is by far my husband's favorite carrier. He spends a minimum of 2 days a week wearing our son in it.
The BabyBjorn One has a layer of mesh between your body and baby, allowing the carrier to be secured in place first and then baby added second. Making this carrier VERY easy to put on alone and easily adjustable to achieve a comfortable fit.
Maintains a healthy hip position.
Recommended for Newborns until 3 years of age, no insert required.
Can be worn all 4 ways, including forward facing on the front.
Machine washable.
Pros:
Extremely comfortable for both baby and baby wearer!
VERY easy to put on and adjust.
Sleek design.
Can be worn forward facing.
Easily switched between forward facing and inward facing.
No newborn insert required.
Cons:
You must maneuver around this mesh panel if you desire to breastfeed while wearing the carrier.
Does not pack as compactly because the body panel is more structured.
Thanks for stopping by!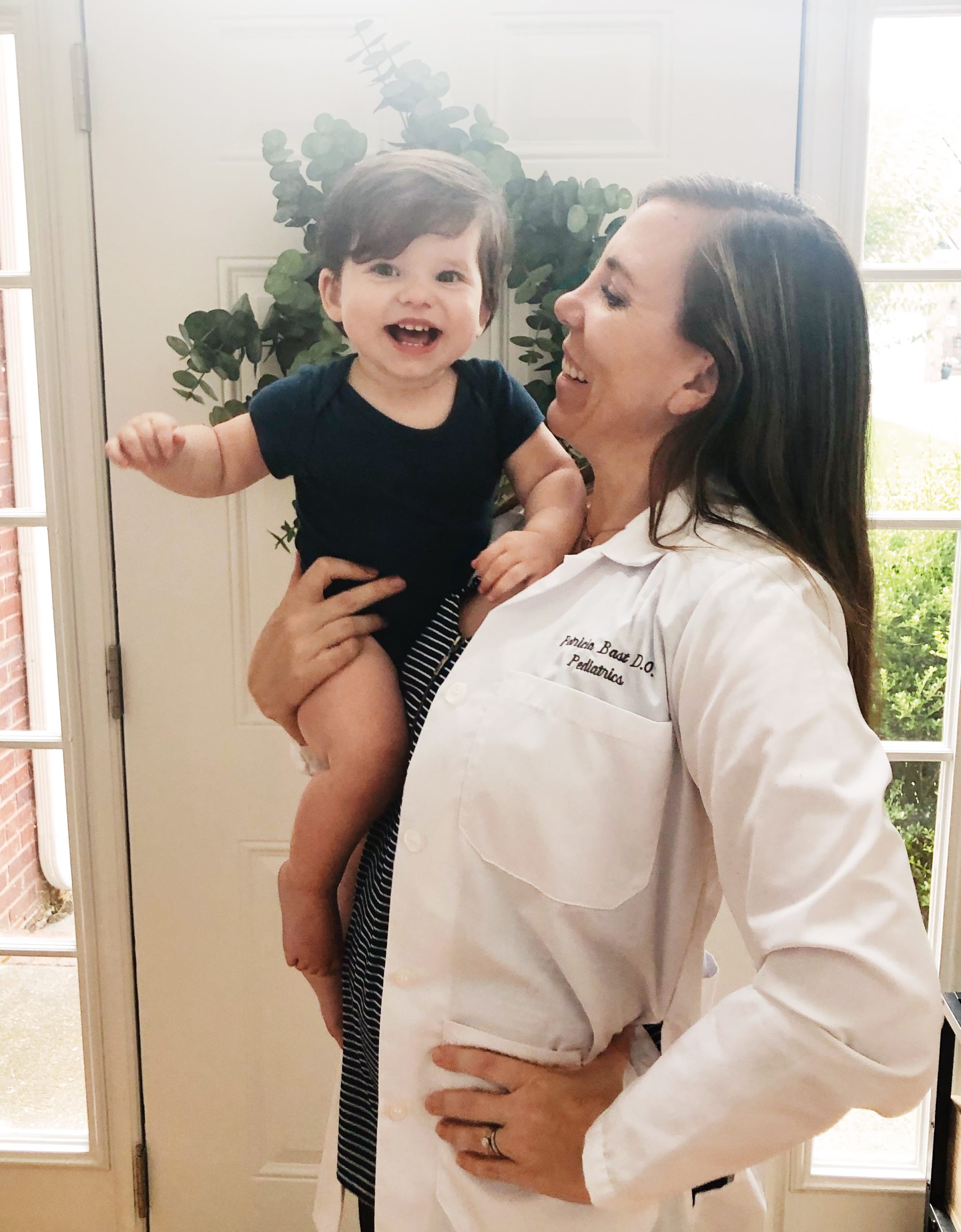 Dr. Patricia Bast was born and raised in Southern California. She earned a bachelors degree in science at UC Irvine, then went on to graduate medical school from Touro University College of Osteopathic Medicine in Northern California. After several years working as a pediatrician Dr. Bast choose to expand her training to include lactation consultant. Dr. Bast is now raising her children and taking care of patients in beautiful Georgia.