With Easter around the corner you may be struggling to come up with items to put in your baby and toddler's Easter baskets. This is the perfect time to think about items that your child will enjoy now as well as milestones coming in the near future. That is why I put together two different baskets containing some of my favorite baby brands!
From stuffed animals to instruments, I value items that my son will enjoy for years to come rather then a bunch of tiny toys that will get thrown away in a week. Additionally, instead of filling my baskets with fake grass that will inevitably end up all over my house, I grabbed a couple beautiful swaddles from Buttermilk Babies to add a special touch.
Baby Basket-
Slumberkins Peep-
Babies love to cuddle, and what better way then with an ultra plush little chick. So soft and absolutely perfect for snuggles. 
slumberkins.com
Modern Burlap Swaddle-
I adore wrapping my baby in scripture and I can see no better way to celebrate the significance of Easter. These beautiful swaddles are also perfect for on the nursery wall! 
modernburlap.com
Bebe Co Maracas-
Easter is a time of celebration and music is a great way to do that. These maracas are the perfect size for tiny hands and make a great decoration for the nursery. 
Bebecoaustralia.com
Otherware Teether-
A good quality teether, perfect for tiny hands, available in a variety of beautiful colors. Otherware is a favorite brand for teething toys in our home. 
otherware.ca
Toddler Basket-
Hazel Village Bunny-
The perfect little friend for any toddler to spend their days with. With impeccable craftsmanship and long limbs, they are ideal for your toddler's hands to hold. 
hazelvillage.com
Kid-O Instruments-
The perfect size for toddler hands, durable, and fun for hours of enjoyment. 
LINK
Lollacup Sippy Cup-
Learning to drink from a straw cup is a big milestone for any toddler and these cups are an adorable addition to any Easter basket. 
LINK
Little Sapling Toys Rainbow Stacker-
I LOVE wooden toys! And stackers are a favorite in my house. They improve fine motor coordination and can be used in imaginative play as tunnels or bridges! 
www.littlesaplingtoys.com
Loulou Lollipop Refinery Donut Teether-
Cutting teeth is difficult, but there is no reason the tethers can't be fun designs and Loulou Lollipop makes absolutely delicious options! 
louloulollipop.com
Books-
Gifting books at each holiday is a tradition for us. I love teaching my child the significance of the holiday and books help me do that. Plus reading helps to improve language development and stimulates the imagination. 
LINK
Snacks- Instead of candy, I recommend including some of your toddler's favorite snacks such as puffs, yogurt bites, and squeeze pouches.
Small toys-
A Kid-O wobble toy off Amazon
LINK
 and a light-up bunny from the dollar section of Target.
Thanks for stopping by!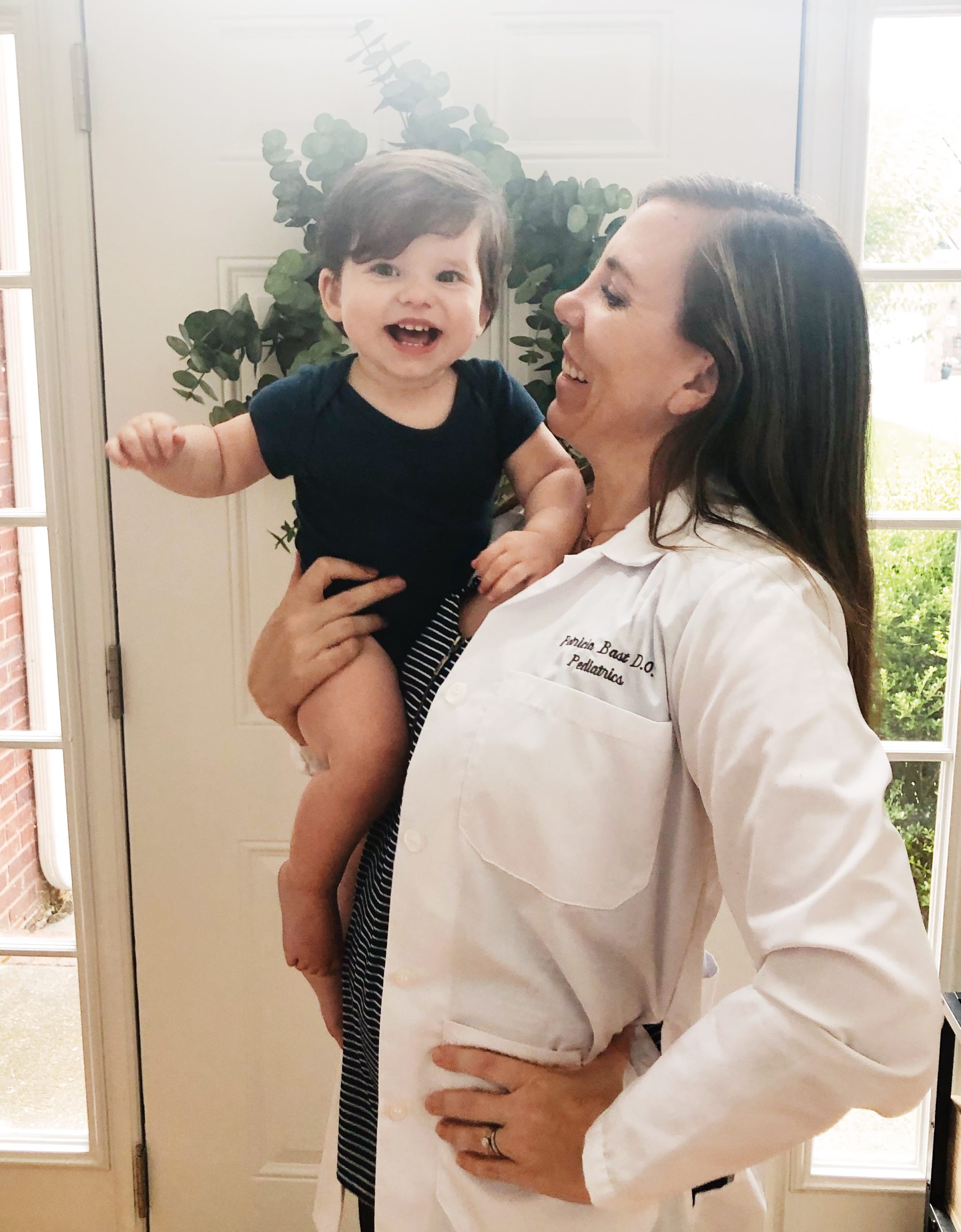 Dr. Patricia Bast was born and raised in Southern California. She earned a bachelors degree in science at UC Irvine, then went on to graduate medical school from Touro University College of Osteopathic Medicine in Northern California. After several years working as a pediatrician Dr. Bast choose to expand her training to include lactation consultant. Dr. Bast is now raising her children and taking care of patients in beautiful Georgia.