There are so many options out there, here are my absolute favorite Amazon essentials for baby, you, and your family.
Amazon Essentials for Baby:
Baby Wipes: Bets & Emy is the absolute best brand I have found. Gentle and effective. Plus once baby grows they are my favorite make-up remover cloths.
BETS & EMY American-Mom Made Baby Wipes 99.9% Water! 540 Count (9 Packs of 60 Count)
Diapers: Made of pure ingredients, Bambo Nature is the only brand of diapers I have used that don't cause my babies to get rashes. They are also wonderfully absorbent.
Bambo Nature Eco Friendly Premium Baby Diapers for Sensitive Skin, Size 4 (15-40 lbs), 30 Count
Pacifier: Ryan & Rose is my top recommended brand for pacifiers, clips, and so much more. With rigorous testing and incredible integrity, I absolutely love this company! Link to Brand Page
Ryan and Rose Cutie PAT Pacifier Grey Stage 1
Ryan & Rose Cutie PAT Pacifier Teether (Clear, Flat)
Pacifier Clips: Also Ryan and Rose, the only company I trust due to their strict safety policy.
Ryan and Rose Mini Pacifier Clip Charcoal Gentry

Amazon Essentials for Bath time:
ScrubBEE is perfect for everything from washing tiny hands and bodies to adult's faces.
Snow Angel is the BEST baby towel. It keeps newborns warm during sponge bathes, provides a soft cushioned place to lay your infant after their bath, and has a cozy hood with generous 'wings' to snuggle once clean. It is also incredible for toddlers to dry them and get ready after bathing.
Amazon Essentials for Play time from Birth until School Age:
Play Gym: From Play gyms to curated boxes, LovEvery makes quality baby and toddler products that enrich baby's development.
The Play Gym by Lovevery; Stage-Based Developmental Activity Gym & Play Mat for Baby to Toddler
Bouncy Chair: The Baby Bjorn Bouncer is absolutely worth EVERY PENNY! Both my boys have used it into their toddler years (the fabric can be reversed turning it into a toddler chair). Plus it collapses flat making it easy to take outside, to the park, or even on the airplane.
BABYBJÖRN Bouncer Bliss, Quilted Cotton, Anthracite
Play Tunnel by LovEvery: Both my boys adore this tunnel! It is incredibly durable, collapses flat, and comes with its own carrying case.
The Organic Cotton Play Tunnel by Lovevery
Toys to Build Fine Motor Skills: Stackers and toys babies can manipulate are so fun for babies.
Fat Brain Toys SpinAgain Kids Stacking Toy
This stacker is especially nice for littles because the pieces don't need to be placed directly on top of one another.
Fat Brain Toys Tobbles Neo
We love the way the Dimpl can easily fit in a diaper bag and all ages love to push the colored mounds back and forth.
Fat Brain Toys Dimpl Baby
Train Tracks: Every child needs a set of loose train tracks to let their imaginations soar as they build towns and villages. These are also incredible for brain development.
Wooden Train Track 52 Piece Set
Trucks and Vehicles are wonderful for problem solving and hand-eye coordination:
Green Toys Dump Truck
Green Toys is an incredible and durable brand made from recycled plastics. Also available in a variety of colors, including pinks and purples!
Green Toys Fire Truck with Flatbed Truck & Race Car
To Encourage Gross Motor skills and walking
Disney My First Minnie Plane
Ride-On Toys Come in a Huge Variety of Sizes, Shapes, and Colors. This is what we bought Noah for his first birthday.
Best Ride on Cars Mercedes Benz
Play Kitchen and Play Food- Excellent for imaginative play.
Melissa & Doug Food Groups
The wooden food pieces are so much better than the plastic options. And look how cute this kitchen is. We have the same one, just not the gold accents.
KidKraft Modern White Play Kitchen with Gold Accents & 27Piece Cookware Set – Amazon Exclusive
Toys to encourage role playing and imaginative play are key for development.
Hape Doctor on Call Wooden Toddler Role Play and Accessory Set
Puzzles: Great for focus and problem solving skills.
Children of The World – 36 Piece Jigsaw Floor Puzzle
Amazon Essentials for Baby's Nursery:
Owlet Baby Monitor: My all time favorite baby product! Yes it is worth every penny, I would never sleep without it.
Owlet Smart Sock + Cam – Heart Rate, Oxygen, Video & Audio – The Complete Baby Monitor Solution
Nursing Pillow: Between my boys I have gone through 4 different nursing pillows and the Nook Niche is absolutely amazing. Supportive, comfortable, and can be used as a pillow once the breastfeeding days are over!
Nook Sleep Niche Feeding Pillow, Misty
Change Pad/ Scale: Hatch Baby Grow, beautiful, sleek, wipeable and the perfect way to keep track of your baby's growth. The application also have a place to track feedings and diaper changes.
Hatch Baby Grow Smart Changing Pad and Scale
Amazon Essentials for Meal Time:
High Chair: The Nomi High Chair is the only chair your child will ever need! With a design that ergonomically supports your child from newborn (with baby attachment) until adulthood (max weight capacity is 300lbs)!
Nomi High Chair, White – White Oak Wood, Modern Scandinavian Design with a Strong Wooden Stem, Baby through Teenager and Beyond with Seamless Adjustability, Award Winning Highchair
Activity Chair/ Meals on the go: Bumbo Multi Seat can be used with the included tray or without. It even connects to an adult chair to bring baby to the table.
Bumbo B11119 Multi Seat, Cool Grey
Busy Baby Mat is genius for infants and toddlers alike. Not only does it provide a clean space for your baby to eat off of, it has tethers for toys (or baby spoons) AND it can be used with washable markers to entertain your toddler!
EZPZ mats are a favorite at my house, both boys use them several times each day.
Silicone straws are not only great for the environment, these are adjustable in size making them much easier to get truly clean. PLUS, they work as a wonderful sensory toy to entertain kids on the go.
As baby starts solids, it is important to cut round pieces and avoid choking hazards.
Fruit Vegetable Cutter Grape Slicer
A cherry pitter is the newest addition to my kitchen! Cutting the pit out of a cherry is hard and time consuming, so this has been a game changer.
OXO Good Grips Cherry and Olive Pitter, Red
Amazon Essential Strollers:
Joovy Qool: has an adaptable sleek design that is perfect for transporting 1-3 children with ease. The base model comes with one seat, a second seat, bassinet for newborns, and bench seat for older toddlers are option additions.
JOOVY Qool Second Seat, Black Melange
Umbrella Stroller: Joovy Groove Ultralight is light weight and easy to travel with. Yet structured enough to provide a safe and smooth ride for newborns through toddlerhood.
JOOVY New Groove Ultralight Umbrella Stroller, Black
Amazon Essential Sleep Must Haves:
Crib Mattress: With babies spending so much time in bed a quality mattress made from safe materials is critical. Plus Nook Sleep has mastered breathability! Nook Sleep offers several types of crib mattress and a whole selection of other products all top quality.
Nook Sleep Pebble Air Lightweight Breathable Crib Mattress, Cloud
Swaddles: Love to Dream swaddles allow babies to keep their hands by their face to naturally soothe themselves!
Love To Dream Swaddle UP, Gray, Small, 8-13 lbs, Dramatically Better Sleep, Allow Baby to Sleep in Their Preferred arms up Position for self-Soothing, snug fit Calms Startle Reflex
Once baby grows and begins to roll the LoveToDream 50/50 allows you to slowly transition out of the swaddle into an open arm sleep sack.
Love To Dream Swaddle UP 50/50 Transition Bag, Gray, Medium, 13-18.5 lbs, Patented Zip-Off Wings, Gently Help Baby Safely Transition from Being swaddled to arms Free Before Rolling Over
Sleep Sack: Nested Bean has been a favorite brand of ours since Luke, the little weight helps soothe baby so they feel like your hand is on them.
Noise Machine: Hatch Rest is incredible. It can be completely controlled from your cell phone so no sneaking back into baby's room if you forget. The Rest can be a nightlight, sound machine, AND it can be programed to help your toddler learn their schedule.
Hatch Baby Rest Sound Machine, Night Light and Time-to-Rise
Black-out Curtains: An absolute must to promote good sleep hygiene. These ones suction cup to the windows.
AmazonBasics Portable Baby Travel Window Blackout Blind Shades with Suction Cups
These ones are paper shades with removable adhesive, this means they can be cut to size. An excellent temporary solution.
Original Blackout Pleated Paper Shade Black, 36" x 72", 6-Pack
Amazon Essential Toddler Basics:
Hydroflask is Stainless steal so they don't crack with dropped (or thrown). Plus they keep beverages cold for a long time. They come in lots of colors, sizes and shapes.
Balance Bike: Balancing is the important part of learning to ride a bike, we love the Joovy Bicycoo because the wheels are wide to help with traction and the brake is hand controlled.
Joovy Bicycoo Balance Bike, Black
Climber: We just bought this to replace a plastic castle that was broken in our move. I love that it won't trap water, has a minimal impact on the grass, and can provides great open ended play!
Amazon Essentials for Potty Training:
Training Pants: Bambo Nature is still our favorite, all other brands cause Luke to rash.
Bambo Nature Eco Friendly Premium Training Pants for Sensitive Skin, Size 5 (26-44 lbs), 100 Count (5 Packs of 20)
Portable Toilet: Bumbo Step n' Potty is incredible versatile, it can be a potty, or you can remove the seat to place on the adult toilet and the base becomes a stool. I LOVE when one piece grows with your child. Plus, the seat is super cushioned which I key during those early days.
Bumbo | Step 'n Potty | Slate Grey
Amazon Essential Travel Options:
We have used this travel urinal SO MANY TIMES! I hate public restrooms and can avoid most of them by using this. Yes, it is leak-proof!
ONEDONE Portable Baby Child Potty Urinal Emergency Toilet for Camping Car Travel and Kid Potty Pee Training (boy)
We have never needed this option, but if you have a girl or your child needs to go number 2 this seat can be combined with a bag and spare diaper for all your needs.
OXO Tot 2-in-1 Go Potty for Travel – Gray
Amazon Essentials for a Sick Child:
Baby Frida is in the business of solving baby problems. And the nasal aspirator is exactly what you need for all cold, I promise it is totally sanitary.
Baby Nasal Aspirator NoseFrida the Snotsucker with 20 Extra Hygiene Filters by Frida Baby
The MediFrida is absolutely revolutionary for giving your baby medicine or vitamins. The syringe attaches to a pacifier so the liquid squirts on the cheek making it easier to swallow.
Fridababy MediFrida the Accu-Dose Pacifier Baby Medicine Dispenser
Amazon Essentials for Teething:
Camilia is my first line for babies that need more than a teether. It is camomile based and is wonderfully soothing.
Boiron Camilia, 30 Doses, Homeopathic Medicine for Teething Relief
Amazon Essentials for Mommy:
Nursing Bra: Bravado Designs is my favorite for all nursing bras and tanks. They are comfortable, flattering, and easy to use while holding a screaming infant.
BRAVADO! DESIGNS Belle Nursing Bra, Rose Dust
BRAVADO! DESIGNS Women's Maternity Body Silk Seamless Nursing Cami, White
Devotional: Pressing Pause is SO ENCOURAGING, I highly recommend it to any Mama looking for a positive way to start your day.
Pressing Pause: 100 Quiet Moments for Moms to Meet with Jesus
Beautiful cell phone holder: comes in multiple colors. Perfect for facetime, zoom calls, and just catching up on social media!
Cell Phone Stand
Hydro Flask: Yep Mama needs one too! I keep a 40oz one by my bed and have a smaller one that I take with me during the day.
Hydro Flask Vacuum Insulated Stainless Steel Water Bottle Wide Mouth with Straw Lid (White, 32-Ounce)
The Wet Brush is worth all the hype. I have very long hair and it's the only brush that doesn't tear it. My husband loves it too and I had to get him his own. We even have a tiny travel size in the car for the boys.
Wet Brush Pro Detangle Hair Brush, Blackout
Cleaning: This wet/dry vacuum has changed my cleaning routine. No more pushing crumbs around the kitchen with my swifter, this sucks them up like a regular vacuum and then washes the floors clean!
This post does contain some affiliate links at no cost to yourself.
Thanks for stopping by!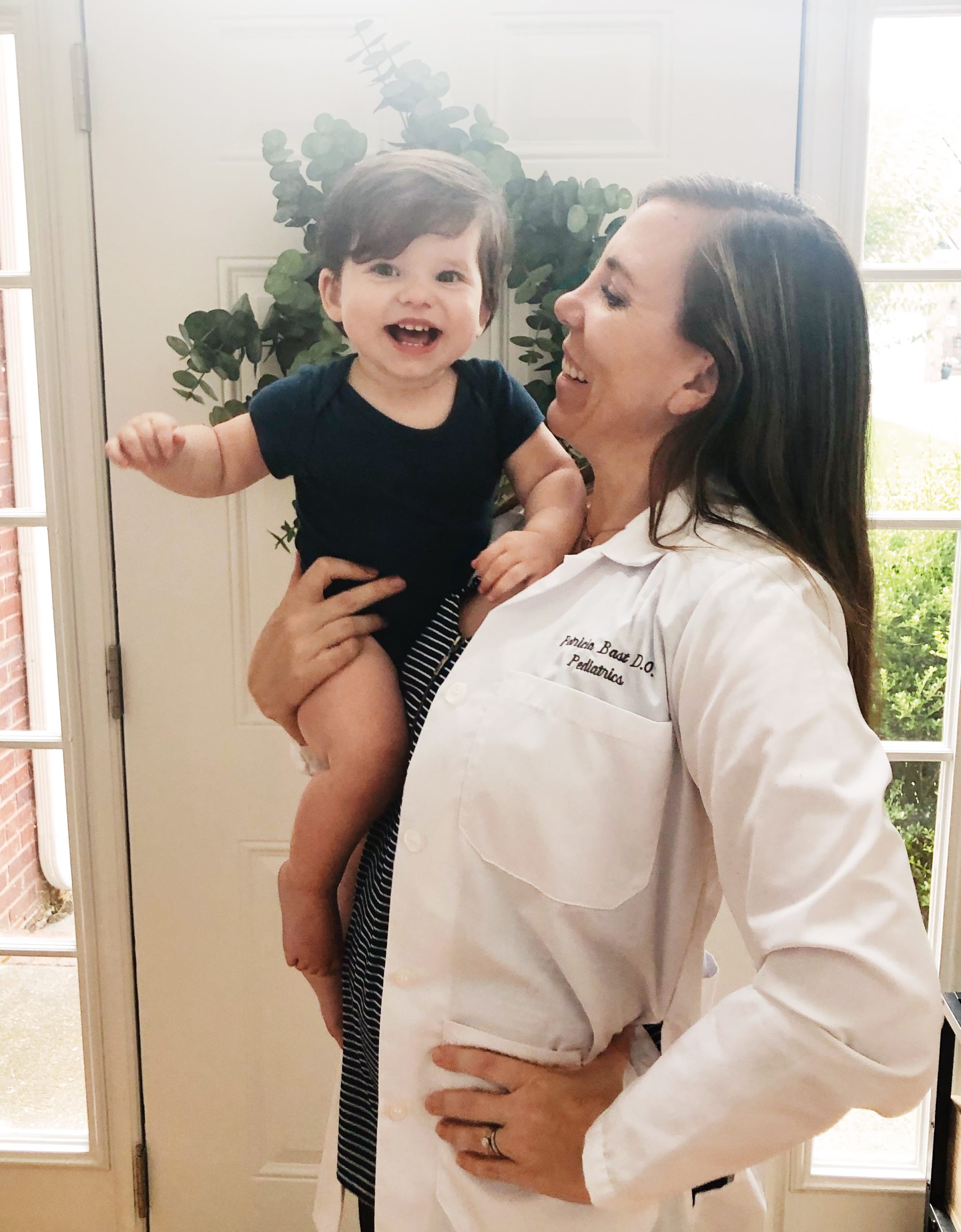 Dr. Patricia Bast was born and raised in Southern California. She earned a bachelors degree in science at UC Irvine, then went on to graduate medical school from Touro University College of Osteopathic Medicine in Northern California. After several years working as a pediatrician Dr. Bast choose to expand her training to include lactation consultant. Dr. Bast is now raising her children and taking care of patients in beautiful Georgia.