Teething is difficult, both for baby and for the parents. Your once laid back happy baby can turn into an irritable, needy, little one whom is difficult to console. Having good teething toys around can help make this time much more bearable for you both. But with SO MANY teething options out there it can be hard to know where to turn.
Some teething rules to live by:
Make sure you always inspect teething toys BEFORE your little one starts to chow down. Over time pieces can break loose and become choking hazards.
Offer a variety of textures: wood, silicone, cloth, and metal; as well as warm and cold options. This will help provide both tactile stimulation and relief to sore and itchy gums.
Having the parent who is holding baby wear a teething necklace ensures there is always something for baby to munch on when their gums are sore. They also serve as excellent distractions to prevent baby from pulling your hair and scratching you during feeding.

Teething necklaces should be worn by parents only to protect against the risk of strangulation. NEVER put baby to bed while wearing a necklace or bib.
Here are some of my favorite teethers, all the brands mentioned below use natural high quality materials are BPA free and have passed all safety regulations.
LouLou Lollipop Teethers:
The teethers and teether clips sold by LouLou Lollipop come in many fun colors and shapes. Designed by a mother who sought to provide safe effective chew toys for her daughter. Below is Luke with their signature blue donut. I love this teether, it's adorable, beautiful, and easy for him to grasp. Plus the 3 dimensional sprinkles help soothe his sore gums. Watching my chubby boy chew on a doughnut makes me giggle =)
Made of 100% food grade silicone. Free of Phthalates, Lead, BPA, and PVCs.
$12-25
https://www.etsy.com/people/louloulollipop4#
Teether was bought at a discounted price for the purpose of this review.
Blue Silicone Donut with White Blue and Grey Pacifier Clip
Kleynimals:
Kleynimals is easily one of my favorite inventions. Keys that are clean and safe made specifically for your little one! Made in the USA of a non-toxic 100% stainless steel, these keys are free of dangerous chemicals and without any sharp edges. The Kleynimals Keys depict 3 animals (a lion, giraffe, and elephant) and come with the option to have them engraved. This is one teething toy that I plan to keep as a momento long after my children outgrow it's need. These keys truly are beautiful, well crafted, pieces of artwork; worth every penny.
$28
kleynimals.com
Teether was bought at a discounted price for the purpose of this review.
* Shown attached to the Charlie Cutie Clip to prevent Luke from dropping his Kleynimals on the floor.
Gertie The Good Goose: 
Made by Tot Corp, a Canadian based company. Gertie is fun addition to your teething collection. With a smooth curved beak and long slender body, Gertie is easy for Luke to grab and chew on. Plus when squeezed she squeaks bringing a quick smile to Luke's face! Gertie is made of 100% pure natural rubber and she has a soft smooth texture . The box states Gertie has a slight vanilla scent, but in my experience she simply smells like rubber.
$23
Free of BPA, Phthalate, and PVC.
http://totcorp.ca/Gertie-The-Good-Goose_p_297.html
Teether was provided for the purpose of this review.
Gertie the Good Goose
TeetherToys:
TeetherToys was started by a developmental therapist whom works with special needs infants – micro-preemies, genetic disorders, neurological and other high-risk sorts of stuff. TeetherToys are specifically designed to help babies develop important early milestones such as grasping and shaking. She offers natural teething toys of many shapes and sizes, there are even options geared toward premies! All her teethers are made of 100% all natural hardwood that is hand sanded to perfection.  Below Luke is pictured playing with the Ring Around the Rattle; both a classic wooden rattle and a teething toy. The size and shape of this classic rattle make it perfect for tiny hands; in fact it was one of the first teethers that Luke could grasp and chew on without assistance.
$18-24
http://teethertoys.com/
Teether was provided for the purpose of this review.
Loving his Ring Around the Rattle
Meadoria:
A beautiful handmade pacifier/teether clip that is made of raw natural wood and crochet cotton ruffles with a 3″ wooden ring that has his name engraved in it. The organic wood is conditioned with a blend of beeswax and coconut oil, both organic. There is no lacquer or sealant on the wood, it is free of toxins. The clip tip is lead free and has plastic teeth to protect clothing. The beads are strung together with a strong cord.
https://www.etsy.com/shop/meadoria
$15-20
Pacifier Clip with Neutral Cotton Accent and Engraved Wooden Ring
Sophie The Giraffe Teether
(link):
Designed to stimulate all 5 of baby's senses from the comfortingly soft texture of the natural rubber to the endearing squeak she makes when squeezed. Sophie is loved by babies and perfectly shaped for little hands to grip.
Made of 100% natural rubber and food grade-paint.
$23
Snoozing with his Sophie
Beyond the Teethers:
— Ryan and Rose Cutie Clips:
Now that baby is putting EVERYTHING in their mouth, it is important to be able to keep your favorite teethers and pacifiers off the ground. Ryan and Rose Cutie Clips are the perfect solution. Not only are they an adorable fashion accessory, they are the perfect length (just 6-7″) to prevent dragging on the ground and reduce the risk of strangulation. The company motto is "Don't wanna lose it, Cutie Clip it." In my house I use Cutie Clips for everything from pacifiers, to teethers, to loveys. I simply attach the item to the cutie clip by slipping it through the ring and then clip the item to their shirt, carrier or chair. I also LOVE that you can get them custom engraved with baby's name, initials, or monogram.
Made from a variety of lead free materials. Available in many different colors, and styles. Perfect for little boys and girls.
https://www.ryanandrose.co/
$10-20
Cutie clips were provided for the purpose of this review.
Thanks for stopping by!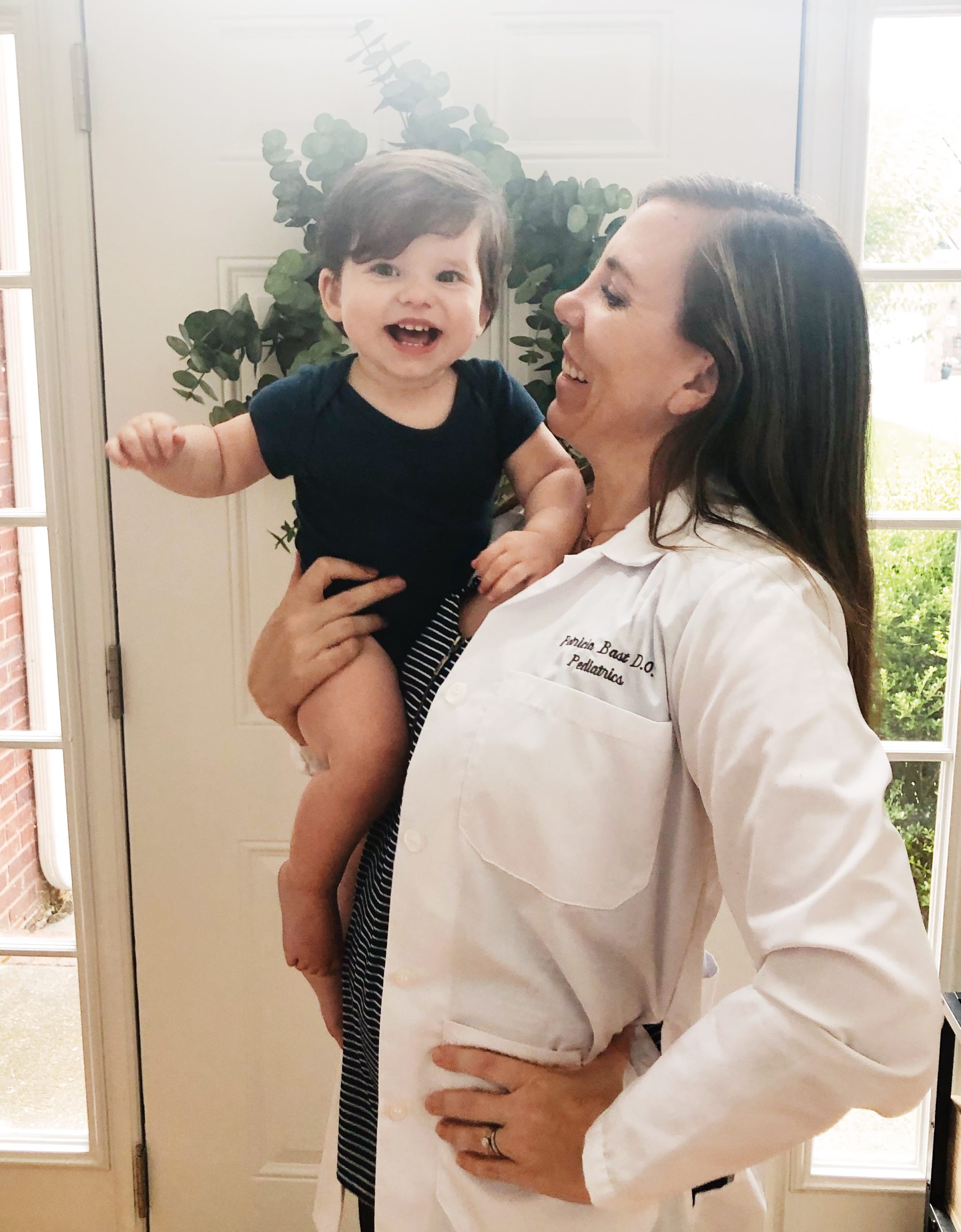 Dr. Patricia Bast was born and raised in Southern California. She earned a bachelors degree in science at UC Irvine, then went on to graduate medical school from Touro University College of Osteopathic Medicine in Northern California. After several years working as a pediatrician Dr. Bast choose to expand her training to include lactation consultant. Dr. Bast is now raising her children and taking care of patients in beautiful Georgia.